Do You Know SmartLipo? Why We are a SmartLipo Sherman Provider
DO YOU KNOW SMARTLIPO?
Need some help shedding those unwanted pounds? Bariatric surgery is one resource to which many people are turning in order to lose weight and get healthy. There are many types of weight loss surgery available, however, many of these procedures are designed for people who are significantly overweight or obese.
What are your options if you don't need to lose 50+ pounds? If you do not qualify for bariatric surgery but need some help to reduce accumulated fat deposits such as love handles, flabby upper arms, excess neck or facial fat or fat on the lower torso, SmartLipo might be the answer you've been looking for.
WHAT IS SMARTLIPO SHERMAN?
SmartLipo Triplex™ is a minimally invasive, laser-assisted procedure in which a small cannula (or tube) is inserted under the skin. The laser targets fat cells through the cannula, causing them to rupture and the liquefied fat is then gently suctioned out. Once the fat has been removed, collagen is produced, which results in tightened tissue.
SmartLipo is different from conventional liposuction in that liposuction often leaves behind loose skin. SmartLipo is also generally performed under a local anesthetic instead of general anesthesia so you are awake during the procedure, leading to a faster, easier recovery. Most patients who receive SmartLipo are able to return to normal activities within a day or two.
IS SMARTLIPO SHERMAN RIGHT FOR YOU?
The best candidates for SmartLipo are men and women who are not significantly overweight (need to lose less than 50 pounds) but have accumulated fat deposits in targeted areas on the body such as love handles, upper arms, neck and face or lower torso. A consultation with a SmartLipo Sherman physician at Cernero Surgery and Aesthetics can help you determine if SmartLipo is the right procedure for you.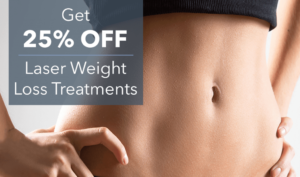 Now through September 30, the SmartLipo experts at Cernero Surgery and Aesthetics are offering special on our laser weight loss treatments. Save 25 percent on one of our laser weight loss procedures, SmartLipo Triplex or SculpSure. In comparison with SmartLipo, which provides up to 70 percent fat reduction in targeted areas, SculpSure is less invasive and provides fat reduction in certain areas up to 24 percent.
SculpSure treatments are intended for patients who are in generally good shape but have stubborn pockets of fat that refuse to go away with diet and exercise. Patients typically begin to see weight loss after six weeks with optimum weight loss generally occurring within 12 weeks after the treatment. SculpSure is often also used as a follow up option for SmartLipo and bariatric surgery patients.
Contact us to schedule your consultation appointment and we'll help you find the best solution for your health and weight loss goals.
*All information subject to change. Images may contain models. Individual results are not guaranteed and may vary.
Posted in: Laser Body Contouring