Cernero Surgery Wins Award for Best Bariatric Services
Every year, Texoma citizens vote on their favorite businesses to be featured in the Herald Democrat's Best of Texoma magazine, an annual publication showcasing the best the region has to offer in dining, shopping and other services. This year, the 15-year anniversary of the awards, Cernero Surgery was awarded first place for Best Bariatric and Weight Loss Services.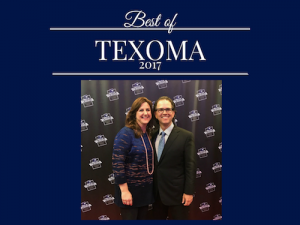 The Voting Process
In the nomination phase of the two-tiered voting process, readers submitted votes nominating the best businesses or organizations in a wide variety of categories, either through the Herald Democrat website or by mailing in nomination ballots. The top three finalists for each category were then chosen from the nominated businesses to go on to a second round of voting to decide the winner of each category. This year, more than 261,000 votes were cast in more than 130 categories.
Best of Texoma Gala
Dr. Cernero attended the Best of Texoma Gala on Saturday, April 29th, where he was presented with the first place award for Best Bariatric and Weight Loss Services. This is the first year the Herald Democrat has held the gala, which served as a ceremony announcing the first place winners and a celebration for all of the winners of the 2017 Best of Texoma Awards.
See Cernero Surgery and all of the award winners on the official ballot here.
Posted in: Bariatric Surgery